Digital Life Central is reader-powered. We are a participant in the Amazon LLC Associates Program and other affiliates programs. As an Amazon affiliate, we earn from qualifying purchases.
Just like many other women, I have a small wrist. Not only has it affected my choice of fitness tracker, but it has also affected my choice of jewelry and dress watches as well. Finding a Fitbit for a small wrist is difficult, but that does not mean you should give up. Fitbits are just like people—they come in all shapes and sizes.
We are looking at which Fitbit is the best choice for small wrists. On top of that, we will also talk about problems you may encounter when you have a small wrist and would like to wear a fitness tracker. 
The Wrist Problem For Tiny Wrists
The size of the watch straps is not the only problem when you have a small wrist. There are other things you need to consider. 
For instance, a large watch face or display does not look nice worn on a small wrist. Most women have what you can call a "small wrist" problem, so the way Fitbits or other fitness trackers look when you wear them is often a problem. After all, many ladies like their fitness trackers to look aesthetically pleasing and functional. 
Why Is It Important My Fitbit Fits My Wrist? 
There is no doubt about it – Fitbit activity trackers are great. They use sensors to monitor physical activity, sleep tracking, and even health monitoring. However, to get accurate data from your Fitbit, it needs to fit properly. If your Fitbit does not fit on your small wrist correctly, it can't monitor physical activity and motion. If it is too loose, your heart rate reading will never be right. 
When you rely on your fitness tracker to monitor heart rate and pulse, it should fit snuggly. A fitness tracker which is too tight or loose does not record steps or any other physical activity you do correctly. Along with your heart rate reading, a bunch of other functions such as step counting and swim strokes is not going to be right. 
Fitbit recommends wearing your device one finger's width above the wrist bone and always tightening it enough for the sensors to be in contact with the skin but not so tight that it will impair the blood flow.
What Is The Smallest Fitness Tracker? 
Last update on 2023-01-14 / Affiliate links / Images from Amazon Product Advertising API
Regarding Fitbit for small wrists, the lineup of available models is more limited. 
This is a list of all the best Fitbit trackers for small wrists:
Fitbit Luxe
Versa Series
Fitbit Sense
Fitbit Charge Series
Before you go ahead and check out the functions of the different models, let us give you some more helpful information regarding trackers for small wrists. 
Is Fitbit Going to Fit My Wrist? 
Can I buy different size straps for my Fitbit? Yes, you have a choice of sizes when it comes to straps for Fitbit.
Fitbit straps come in small and large size options. The small wrist band fits wrists from 140 – 170 mm. The large strap fits wrists between 170 – 206 mm. Choosing the right Fitbit becomes even more challenging when your wrist does not fit into those two categories. My wrist is only 125 mm, and I always add holes in the strap or choose an elastic strap.  
How Do I Measure My Wrist? 
I have lost count of how many times I have measured my wrist for various fitness and GSP trackers. Buying regular watches for me is also a nightmare. 
The upside is that this has made me a specialist in measuring my wrist. Fitbit likes to make it easy for you by offering a sizing tool. An alternative to the Fitbit tool is using a rope.
Measuring Your Wrist Using the Fitbit Sizing Tool
The Fitbit sizing tool is easy to use. All you have to do is to print it out. This is how you do it:
Print out the Fitbit Sizing Tool in its original size. 
Cut it and wrap it around your wrist, keeping the end with the arrow on top. 
Make sure the band rests flat against your wrist. 
All you need to do now is to choose the size the arrow points to. 
Measuring Your Wrists Using rope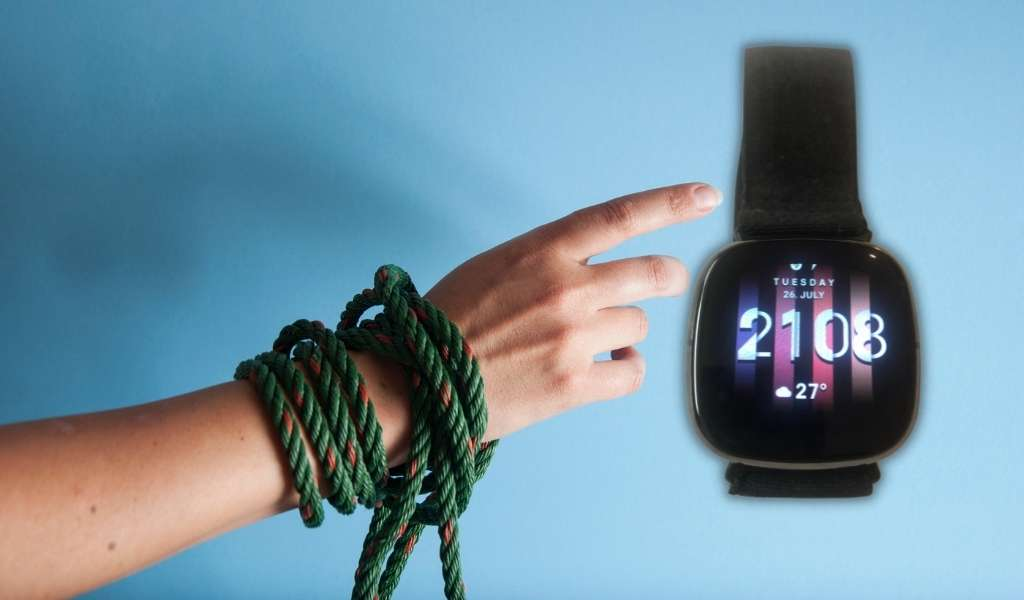 The rope or string you choose should not be elastic. If it is, you risk ending up with the wrong size Fitbit wristband. 
Using a rope to measure is a tried and tested method. Follow these instructions if you would like to try this method: 
Wrap the rope around your wrist in the same spot you usually wear your regular watch.
Cut the rope and measure it against a ruler laid flat on a table.
This should give you an accurate measurement of your wrist size. 
Choosing the Best Fitness trackers for Small Wrists
Now that you know what size strap you need, it is time to choose your Fitbit. It is not a momentous task, but there are a few things you need to consider. When I choose a new fitness tracker, I consider this before making my decision. 
Case diameter
Case Thickness and height
Band size
Choosing the Right Diameter
If you only have a small wrist, one of the larger Fitbit models will likely look too bulky. In general, the smaller the wrist, the smaller the diameter of your Fitbit should be unless you have eye problems. The perfect diameter for small wrists is between 38 mm to 42 mm. The larger size, 44 mm to 46 mm, could look too bulky and may not accurately measure data such as heart rate. When you use a Fitbit, it is essential that the sensors are in the right place to take readings. 
If unsure, cut out the different sizes and place them against your wrist. That way, you can see what looks right on your wrist. 
Getting the Case Height Right
Case height is the same thing as the thickness of the device. As a rule of thumb, the larger diameter, the larger the case height. 
Take a look at your regular watch. Do you like the case height? If so, you will probably find the case height is around 6 – 12 mm. 
Choosing the Right Band Size
We covered the wrist sizes earlier. The smallest size is the best one to choose for a delicate wrist. If you have a larger than average wrist, there is an extra large size available for wrists measuring from 206 mm to 236 mm.
What Is The Best Fitband and Band For Me? 
Let's look at the different Fitbit models and find out which is right for you. 
Choosing The Right Band or Replacing a Band
If you have bought your Fitbit new, it should fit your wrist perfectly. But, if you have bought your Fitbit second-hand or been given your Fitbit as a present, you should buy a new wristband. 
The best option is always to buy a strap directly from Fitbit. The best bands for small wrists are elastic nylon bands, soft TUP Sport bands, adjustable elastic bands, and silicone bands. If you go for a metal band with loops, your local jewelry shop may be able to help you fit it perfectly to your wrist. You should also consider replacing your Fitbit if you have lost weight. 
Will My Fitbit Work Even If It Does Not Fit My Wrist Perfectly? 
The chances are that you will have problems with your Fitbit data when your Fitbit does not fit your wrist correctly. 
The chances are that if you can slip two fingers under your Fitbit strap, it will not pick up your physical activity correctly. The same thing goes for other fitness trackers as well. When your Fitbit is too loose or too tight, the sensors don't work in the right way to track your activity. 
What Activity Does Your Fitbit Monitor? 
This depends a little bit on your Fitbit model. The latest versions of Fitbit are excellent and monitor many functions we associate with our health. The most popular functions are step tracking and Active Zone minutes. Along with that, your Fitbit can track other activities. Most Fitbit users like to track everything related to their health, including: 
Heart rate
Pulse
Weight 
Steps
Sleep
Exercise activity
Calories burned
All of the above rely on your Fitbit fitting your small wrist well. If it does not fit properly, the sensor function located at the back of the watch face is not going to work. Heart rate monitoring and calories burned are perhaps the most popular vital statics Fitbit users like to track. 
How Much Does A Fitness Watch Weigh? 
Fitbit users with smaller wrists may worry about how much their Fitbit is going to weigh. In that case, it is best to check your Fitbit's weight before buying buy it. 
When you would like to buy a very lightweight Fitbit, it is a good idea to go for Fitbit Charge, which comes in at 34 grams. Another lightweight Fitbit is Charge HR at 26 grams. 
Compared to other fitness trackers, Fitbit is competitively lightweight. For example, Apple Watch trackers weigh between 30.5 grams to 51.5 grams. Garmin fitness trackers vary in weight considerably. The most lightweight model weighs only 24 grams. 
In general, it has to be said that compared to other trackers for small wrists. Fitbit is the most user-friendly. 
Do Smaller Fitbits Have A Long Battery Life? 
Fitbit Inspire 2 has the best battery life. The battery lasts for up to 10 days. The battery lasts for such a long time on the Fitbit Inspire 2 because the device has few functions. There is no GPS tracking or music storage. Having a GPS function uses a lot of battery. Be aware of that.
If you would like to buy a small Fitbit for a small wrist, a good choice is Fitbit Charge 5. Although it does not come with storage for music, it does come with a built-in GPS function. It provides accurate fitness tracking and can also use it to make mobile payments. The average battery life is around seven days. 
Fitbit has also recently partnered with Jewelry designers to provide a more feminine and classy look to the Fitbit Luxe. The Fitbit Luxe Gorjana is a fitness tracker to consider if you want to combine a classy, feminine look with a perfect fit for a small wrist.
The Fitbit Versa is also a fitness tracker that looks good on smaller wrists. It has a lot to offer, including GPS and mobile payments. It has a battery life of 6 days, which is good for a fitness tracker with GPS. 
Fitbit Luxe Gorjana
See how jewelry gets smart with a tracker that doubles as a timeless accessory and features a...
Special Edition comes with a gold stainless steel Parker Link Bracelet from the timeless jewelry...
Get better sleep to power your days with sleep tracking and sleep Score in the Fitbit app
Feel a Buzz when you reach your target heart rate zones, while you earn active zone...
6-month trial of Fitbit Premium (New and returning Premium members only. Must activate trial within...
Last update on 2023-02-02 / Affiliate links / Images from Amazon Product Advertising API
How To Choose Your Fitbit
Although it is essential to consider your wrist size, there are other factors you should consider when choosing the right Fitbit for you. 
These days, we are increasingly reliant on mobile devices. We want them to do so much more than monitoring our heart rate. 
Before you go ahead and buy your Fitbit, make a list of what you would like to do apart from monitoring your heart rate and weight. For example, you probably want your Fitbit to be water-resistant up to 50 meters, and you may even want it to monitor your swim stroke. If you are on the move a lot, you probably want a function to make mobile payments. 
Onboard music is another function that many fitness trackers like as well. If you don't have onboard music, you will need to have your phone nearby. Fitbit Versa 2 even comes with built-in Alexa. Fitbit Versa 2 also features mobile payments and swim tracking. 
Let's Wrap It Up
There is bound to be a suitable fitness tracker out there for your small wrist. But as we mentioned, don't only focus on size. Make sure you get as many functions as possible as well. 
Fitness enthusiasts are fascinated with activity tracking, but the activity trackers of the future will probably do so much more. Hopefully, one day, Fitbit may even come up with an extra small wrist band for people with very small wrists like me. 
Also, and this is a key point, do not forget that numerous third-party companies provide bands in various sizes and designs that will be a perfect match for replacing the original Fitbit band if you think that even the smallest one does not fit your small wrist.