Digital Life Central is reader-powered. We are a participant in the Amazon LLC Associates Program and other affiliates programs. As an Amazon affiliate, we earn from qualifying purchases.
Why is my Fitbit not vibrating for texts? On this page, we are solving the mystery. First, let's find out why your Fitbit device does not vibrate when you receive an incoming text message on your phone.
Fitness trackers do so much more than track your fitness. Buy the right one, such as Fitbit Sense or Fitbit Versa, and you should also be able to receive text messages. The frustration comes in when your Fitbit device does not play ball. In today's modern world, receiving notifications and text messages is important. Most of us use our Android or iOS devices to communicate with the outside world.
The Easy Way to View Text Notifications on Fitbit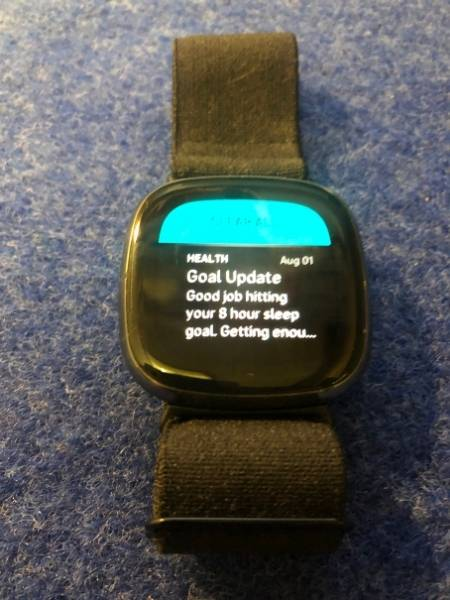 Notifications should always appear on your Fitbit Sense or Fitbit Versa when you are near your phone. They remain on the front screen for a few seconds before disappearing. Depending on your settings and type of device, the arrival of notifications is accompanied by a vibration. This is a way of telling you that you have a call or message waiting for you.
When you don't have the opportunity to interact with the notification immediately, all you have to do is to swipe down from the top of the screen to see it again. This is an easy way to access unread notifications and call notifications. You also have a Clear All option. This function allows you to delete text message notifications from your device.
The text messages you receive should be a complete replica of the ones you received on your Android or iPhone.
Do you have to receive constant texts on your Fitbit? Occasionally, there will be times when you don't want to receive text notifications interrupting your date night. It only takes a second to open the Fitbit app and access the settings menu and the vibration settings section.
Carry on reading how you can make Fitbit devices work for you.
A Guide to Fix Fitbit Notifications Problems and Fitbit App's Permissions
Fitbit notifications not coming through or calls being missed is not unusual. First, it is important to ensure you are close to your phone. For example, if you have left your phone in one part of the building and gone for a meeting in the boardroom, it is not likely you are going to receive your notifications. Your phone and Fitbit need to be within 30ft of each other to communicate.
Are Your Fitbit Notifications Enabled on Your Fitbit?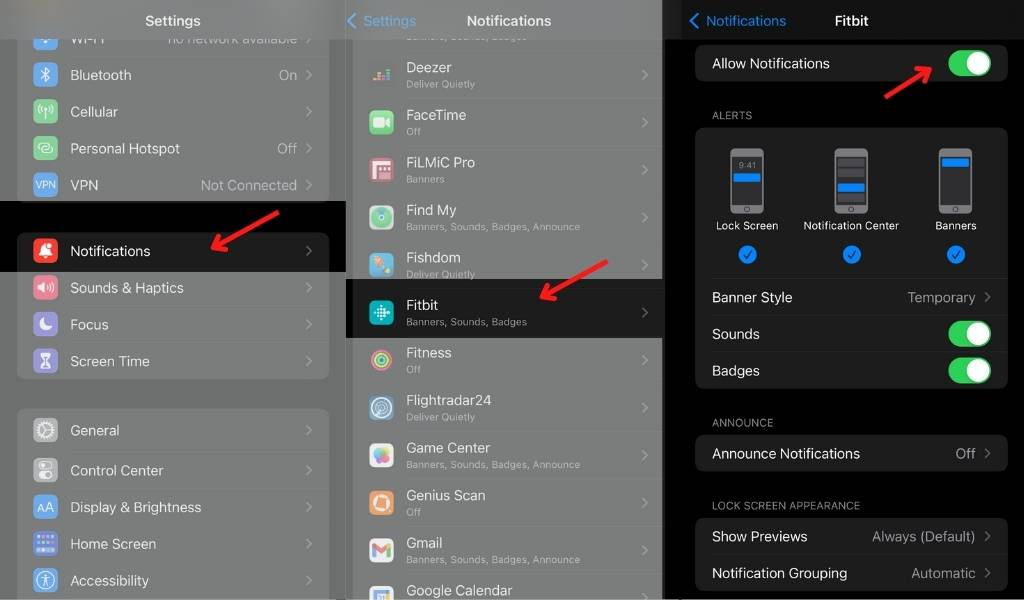 When you notice your notifications are not working, you should check that your device's notifications are enabled. Again, this is super easy to do.
Open the Fitbit app on your smartphone
Tap the picture of the device and open up the settings menu
Open the notifications tab and enable notifications
All series of Fitbit devices work differently. On some, you have a notification setting on the actual device. If you are not receiving notifications, make sure the notifications setting is toggled on by pressing and holding the button on the clock screen. This applies to Ace 2, Charge 2, 3, and the complete Inspire series.
On the Ionic, Versa, and Sense series, you hold down the back button and swipe the quick setting from the clock screen.
You can use the touch-display function if your device does not have a physical button.
Is The Do Not Disturb or Driving Mode Active?
If you have already read the message on your smartphone, your Fitbit device will not show it. Fitbit smartwatches only show new messages. Also, if your phone is unlocked, your Fitbit assumes you have read the messages on your phone. You must also check that the Do Not Disturb or Driving Mode is disengaged on your smartphone.
You should also check your Fitbit. Once the Do Not Disturb or Sleep Mode is engaged, your device will not receive text messages or other notifications. The device lock is also worth checking. Sometimes when you haven't entered your PIN recently, you may need to do so.
Is The Vibration Motor Working?
On some series of the Fitbit, including Versa and Sense, you need to ensure the vibrate option is working. Access Timers on your device and select Stopwatch. Tap the play icon to start the function. If your watch vibrates, everything is okay.
When your device does not have this function, you can check the watch's vibration motor using the alarm clock settings in the Fitbit app. Another option is to set hourly reminders to move via app notifications or make a test call.
Don't Forget About Your Bluetooth Connection Setting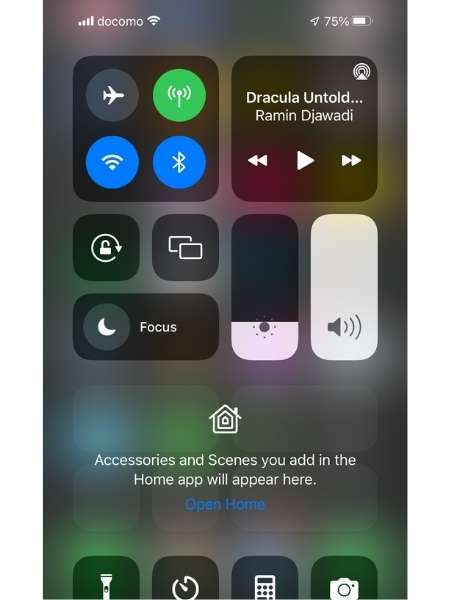 Forgetting to check your phone's Bluetooth settings is an easy oversight to make. Without Bluetooth, your phone and Fitbit can't communicate with each other. So make sure your Bluetooth settings are set up in the right way.
On Android phones, go to settings on your smartphone, select Bluetooth and check that it is set to the ON position. Once you have confirmed that Bluetooth is on, check the list of available Bluetooth devices. If your Fitbit shows up on the list, everything should be okay.
If it is not listed, you need to connect it. Just a warning, having too many Bluetooth devices connected may cause a problem. When you suspect you have too many devices, try switching off the ones you don't need at the time.
You can also try turning off the Bluetooth on your phone and then back on again. Just wait for about 30 seconds before you turn your phone's Bluetooth on again. Don't forget to sync your devices. This is done using the Fitbit app.
Check Permissions
Another thing you can check when your Fitbit app notifications are not working is to make your Fitbit app has the right permissions in your phone's settings. This is easily done from the smartphone's setting. On your phone, choose Notifications and select Fitbit. The Allow Notifications tab should be in the ON position.
Restarting The App and Your Fitbit Device
You can force quit in the app and open it again. As you do this, you should also restart your Fitbit smartwatch. It does not take very long to do and is perfectly safe. Follow this link on how to restart your Fitbit.
Refreshing Notifications and Setting up Notifications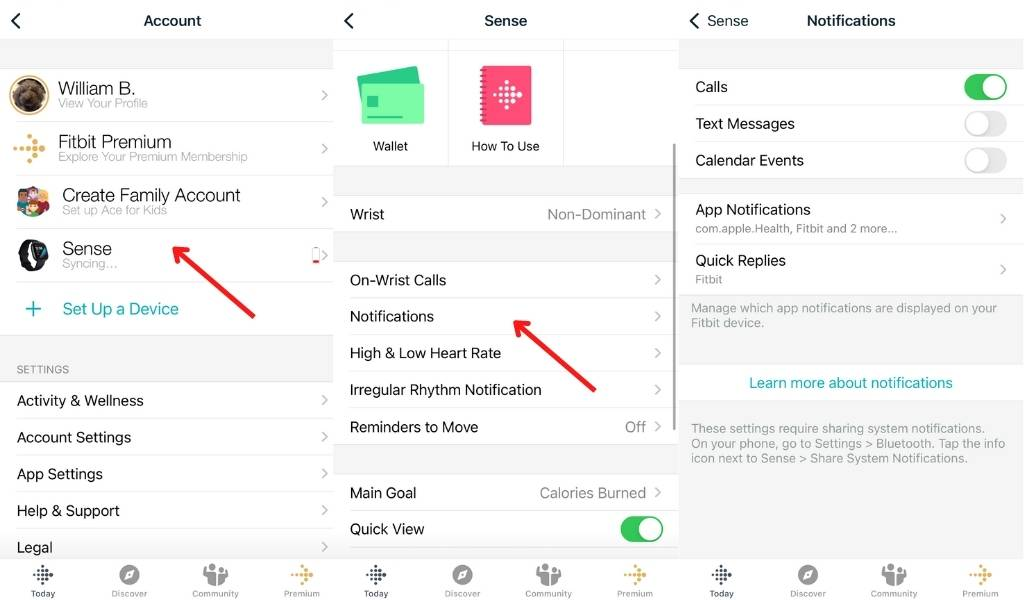 Refreshing to receive notifications is another trick you can try. You do this from the Fit application on your smartphone. Access the app and tap on your profile picture. Once you have done that, tap notifications and switch them off. Once you have restarted your phone, tap "allow notifications" to start receiving them again. Notifications are enabled, and everything should work smoothly.
If that does not work, setting up notifications again is another idea. You do this by telling your smartphone to "forget the device" and removing the Bluetooth connection between your phone and device. After that, you need to set up notifications again in the app.

You can contact the Fitbit customer support team if the same problem persists. But don't do this before checking your phone's settings, sleep mode, and the disturb mode on your tracker.
Can I Choose What App Notifications I Allow Through?
That is a good point. So let's talk a little bit about that. Your Fitbit device can receive other notifications besides text messages and call notifications.
The short answer is yes, but it depends on your device. Apart from calls and text messages, you can also choose to enable calendar events and notifications from third-party apps. It would help if you made sure notifications are enabled for the ones you would like to receive. The choice of other notifications you can choose to receive arise from device to device.
What Are Third Party Apps?
Good examples of third-party apps are Facebook messenger and Google. But, there are also other third-party apps for Fitbit.
On Fitbit Sense, you can receive text messages, calls, calendar events, and stay in touch with your social media accounts. The same goes for the Versa series, Blaze, Fitbit Luxe, Fitbit Charge, Ionic, and Inspire series,
You don't have to leave your notifications on all of the time. You stop the vibrate option when you put your device in do not disturb mode or sleep mode. Choosing what notifications come through is not technical. Simply go to Account in the app and set the permissions for what you would like to receive.
Final Thoughts
There is always a solution when encountering the same issue as many other users. If your problems sound a bit on usual and you can't find an answer, try contacting support. Fitbit not receiving text messages can happen.
Also, remember the tracker vibrates for other reasons, including reminders to move. It also vibrates when you have reached a specific activity goal. Third-party apps allowed to access the smartwatch can also cause vibrations.
Devices such as Fitbit Charge and Fitbit Sense are quickly turning into fitness trackers that can help us with much more than managing our fitness level.